1. How will I receive my order?
You will receive your order via UPS, USPS, FedEx ground or freight depending on the size of the order.
2. How long does the popcorn stay fresh?
Our bags are resealable bags this will keep fresh for up to 8 months, if kept in a dry, cool temperatures.
3. Can we place orders online?
Yes, visit www.poppinpopcorn.com/shop.
4. How do I submit an order to you?
You will want to collect all the order forms, and mail them into us. We will add them up and send you an invoice. Below is an example of our 3-part order form.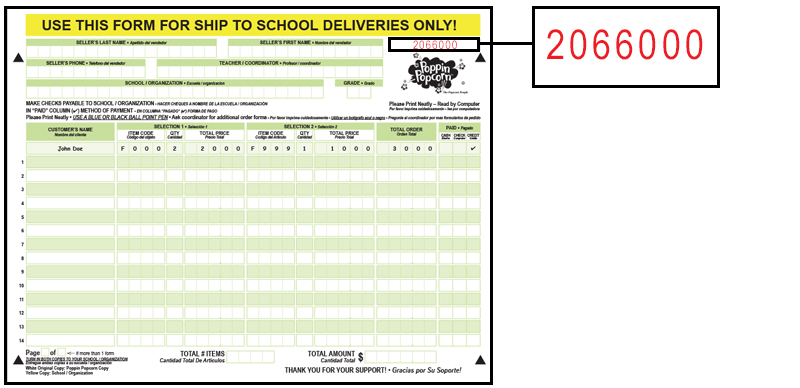 5. Are we a Peanut Free Facility?
We are not a peanut free facility.
6. Can we try the popcorn before we get started?
Absolutely, just fill out our request-free-fundraising-kit form. poppinpopcorn.com/request-free-fundraising-kit/
7. How do I get started with my fundraiser?
A. Choose your brochure from our Fundraisers tab on the top of our page, click get started
and fill in the form provided.
B. Give us a call and one of our live personal salespersons will help you out.
8. Are there any upfront costs?
Never, Its always free to get your fundraiser started!
9. How much profit will we make?
Profits are based on your program. 40-50% profit guaranteed.
10. How do I know if my organization is tax-exempt? What is a tax-exempt number?
This will be provided to you from your bookkeeper.
11. My organization is not a non-profit tax-exempt organization. Can I still run a fundraiser with Poppin Popcorn?
Absolutely, everyone can fundraise with us, from an individual to a full school and more…
12. I am a customer purchasing from a fundraising volunteer. Who should I make my check payable?
Please check the cover letter provided to the seller. All checks are written to the group/individual.
13. Do I have to purchase in case minimums?
No, all our services pick to the piece. Never a case minimum for brochure fundraisers.
14. How do I place my order?
Mail your order forms to your sales representatives.
Attention:
Poppin Popcorn
215 Charles Dr.
Holland MI 49424
15. How much is shipping?
1 Item = $7.95 Shipping
2 Items = $11.95 Shipping, 3+ add $1.00 Per Item
Variety Packs = $12.95 Shipping Each
16. Are there any additional processing fees to order online?
Yes, a 4% convenience fee will incur for online ordering.
17. How do I pay for my order?
Upon completion of your order we will tabulate your order and then email you an invoice with an online bill pay option.
18. Are there any cancellation fees?
Yes, there is a 4% credit card fee when cancelling an order or donation.
19. When should we expect to receive our popcorn order?
Traditional orders are typically shipped within 2 weeks of the sale end date. Online orders are shipped within 5 business days. Once your order ships, tracking information will become available via the email link provided.
20. I have family out of state who wants to order from my fundraiser. Do you have an online
option for them to order and ship to them?
For sure, we have several ways for out of town family and friends to participate.
21. Do the fundraising flavors include any nuts?
Yes, some of our products do have nuts. We do manufacture in a facility with tree nuts and peanuts. We do have a specific cleaning procedure between each product to reduce the chance of cross contamination.
22. Does Poppin Popcorn have any donation or scholarship programs?
Yes, our online platform does accept donations if your participants choose not to purchase products.
23. Credit card statement charges?
Charges on your credit card statement will appear as Poppin Popcorn.
24. My question isn't here, who can I contact for further assistance?
[email protected]